The Seven Flags of the New Orleans Tri-Centennial
Philip Livingston
Signer of the Declaration of Independence
PHILIP LIVINGSTON was born January 15, 1716. Born to wealth, he was reared on the family manor near Albany, New York; he graduated in the class of 1737 from Yale, married a well-to-do girl from Albany, Christina Ten Broeck. He then established a thriving import business in New York City.
Livingston helped to found he New York Society Library, the St. Andrews Society, the City's Chamber of Commerce and King's College (now Columbia University). It was only at the age of forty, however, that he entered into politics as a member of the city's board of alderman.  This office was important and respectable and Livingston was reelected to the office for nine consecutive years. In 1759, he joined the provincial assembly and subsequently would represent the colony at the Stamp Act Congress.
While Livingston wrote and spoke against British oppression, he and his family worked hard for reconciliation. The colony of New York was for a time more under the influence of the British crown than were most other colonies. Likewise, New York more slowly adopted measures hastening the revolution. But all along there were individuals in New York that desplayed patriotic feelings and were ready to rise in opposition to British agressions. Livingston was one of those patriots. 
Livingston was elected to represent New York in Congress in 1774. During the deliberations of this congress, he assisted in preparing an address to the people of Great Britian. In the Second Congress, Philip served on a number of important committees, including the marine committee, the committee on Indian affairs, the committee on commerce, and the treasury board. "He was very useful", a delegate said, "in committees where a knowledge of figures or commercial subjects was required". Another delegate said, "There was a dignity, with a mixture of austerity, in his deportment, which rendered it difficult for strangers to approach him, and which made him a terror to those who swerved from the line or faltered in the path of personal virtue and patriotic duty." Another member of Congress reported, "There is no holding conversation with him. He blusters away."
On the eve of independence there were four Livingstons in Congress: Philip, his younger brother William, young cousin John Jay and the still younger cousin Robert. All Livingstons believed that America should be free, yet not wholly independent of the mother country. It was Philip's cousin, Robert, who perhaps summed up the family's attitude best of all, "Every good man wishes that America should remain free, in this I join heartily; at the same time I do not desire she should be wholly independent of the mother country. How to reconcile their jarring principles, I profess I am altogether at a loss." Once the vote for independence was in, however, the Livingston family abandoned this position and accepted reality. Philip was the only Livingston present on the day the Declaration was signed. Thus he signed for the family. 
The following year, Livingston was reelected to congress by the state convention and in May 1777 he was chosen a senator for the southern district of the first legislature of the state of New York. In October of the same year, he was reelected to Congress and on May 5, 1778 he took his seat. This was a critical and dismal period in the history of the Revolution. The British had taken Philadelphia, requiring congress to hold their sessions at York. At this time, Livingston's health was severely unstable. His health was so compromised that his doctors gave him no hope of recovery. Yet, his patriotic spirit was so strong that he did not hesitate to attend the sessions of Congress.   Prior to his departure for York, he visited his friends in Albany and gave them his final farewell as he did not expect to see them again. His family, at this time were at Kingston, and he also said his good-byes and told them that he would not return. Livingston's sad anticipation proved true. On May 5, 1778, he took his seat in congress and his health deteriorated rapidly. He died on June 12, 1778 at the age of sixty-two. He was buried in York.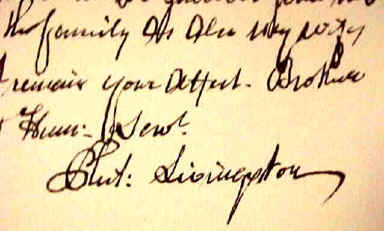 Source: Centennial Book of Signers

For a High-resolution version of the Original Declaration of Independence

For a High-resolution version of the Stone ngraving

We invite you to read a transcription of the complete text of the Declaration as presented by the National Archives.

&

The article "The Declaration of Independence: A History," which provides a detailed account of the Declaration, from its drafting through its preservation today at the National Archives.

Virtualology welcomes the addition of web pages with historical documents and/or scholarly papers on this subject. To submit a web link to this page CLICK HERE. Please be sure to include the above name, your name, address, and any information you deem appropriate with your submission.

National Archives and Records Administration




The Congressional Evolution of the United States Henry Middleton
Unauthorized Site: This site and its contents are not affiliated, connected, associated with or authorized by the individual, family, friends, or trademarked entities utilizing any part or the subject's entire name. Any official or affiliated sites that are related to this subject will be hyper linked below upon submission and Evisum, Inc. review.
Copyright© 2000 by Evisum Inc.TM. All rights reserved.
Evisum Inc.TM Privacy Policy